Technical Information
Find knowledge base articles, manuals, FAQs, technical support, and more.
+ Which UV Sensor model do I need?
All UV sensors use the same detector. The model number you need depends on which output is compatible with your datalogger. Model numbers are listed below with their output:
| | |
| --- | --- |
| SU-100 | 0 to 40 mV |
| SU-420 | USB/software |
| MU-100 | Sensor integrated into top of handheld meter with digital readout |
| MU-200 | Sensor attached to a handheld meter via cable with digital readout |
+ Does the UV sensor measure UVA, UVB, and UVC? Can I get readings from just UVA or just UVB?
The UV sensor will detect all UVA, UVB and some of UVC, providing an integrated total of UV A, B, and some C radiation as one value. The UV sensor is sensitive to wavelengths from 250 nm to 400 nm. UVA is 315 to 400 nm, UVB is 280 to 315 nm, and UVC is 100 to 280nm. See the spectral response graph below.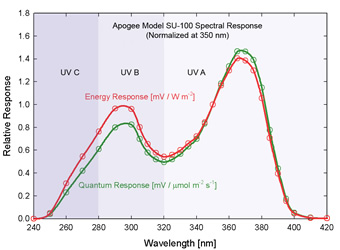 + Is this sensor waterproof?
Unfortunately due to the nature of the way the UV sensor is built it is not waterproof.
+ Can I add additional cable to my sensor?
Yes, if properly spliced, the signal from the sensor is not affected by splicing on additional cable. We have tested splicing up to 100 meters of cable. For information on how to create a proper waterproof splice, please visit our
Instructional webpage
or
watch our video
.
We offer custom cable lengths of our high quality cable and splice kits that can be ordered at the time of purchase.
+ Do I need to order a sensor to go with my meter?
No. All Apogee meters (MO, MP, MQ, and MU series) either have sensors built into the meter or attached via two meters of cable. If you order a sensor only (SI, SO, SP, SQ, and SU series) you will need to have your own datalogger (or, depending on the sensor, a voltmeter) to collect information form the sensor.
+ Can I add cable to my meter?
Although it is possible to splice additional cable to the separate sensor, note that the cable wires are soldered directly into the circuit board of the meter. Care should be taken to remove the back panel of the meter in order to access the board and splice on the additional cable, otherwise two splices would need to be made between the meter and sensor head. Click
here
for further details on how to extend sensor cable length.