Wavelength Range Options
Two wavelength options are available: 340 to 820 nm (SS-110) and 635 to 1100 nm (SS-120).
Complete Package
Package includes spectroradiometer and cosine-corrected detector mounted in the housing, 180° FOV head, AL-200 bubble-level,USB cable for computer interface, USB drive with required drivers and software (Windows compatible, XP and later; Mac compatible, 10.10 and later), and carrying case.
Lab Measurements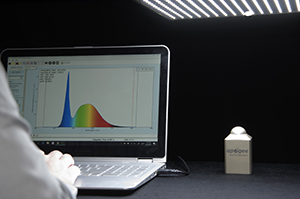 Lighting quality is just as important as lighting quantity. In addition to measuring the total PPFD, the new Field Spectroradiometer splits light to individually measure each color intensity, or wavelength. Spectral output measurements can be used to maximize lighting efficiency, change the light characteristics to mimic seasonal changes, optimize visual appearance of displays, and many other applications.
Field of View Options
Three field of view (FOV) options are available: 180° (hemispherical FOV for measurement of incoming radiation, included), 150° (wide FOV for measurement of reflected radiation, AS-010 accessory), and 25° (narrow FOV for measurement of reflected radiation, AS-011 accessory).


Typical Applications
Measurement of: spectral output (energy flux density, photon flux density, or illuminance) of different radiation sources (often for plant or human lighting), reflectance and transmittance measurements of natural and synthetic surfaces and materials (often plant leaves and canopies), and absorptance measurements of chemical samples.
Warranty and Support
Backed by a 1 year warranty and outstanding customer support.
Mounting Accessories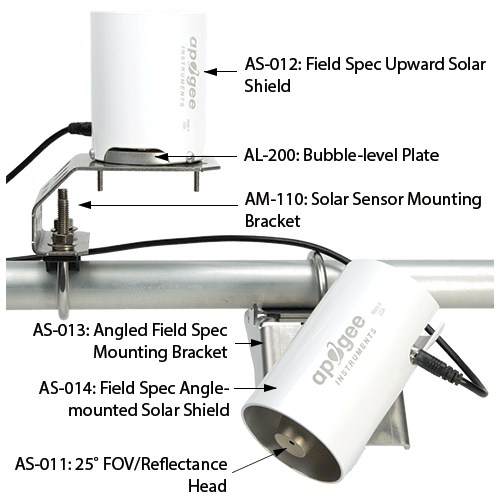 Upward-mounted: The AM-110 Mounting Bracket facilitates mounting the AL-200 leveling plate to a mast or pipe. The bubble-level in the included AL-200 leveling plate makes mounting simple and accurate. The AS-012 Field Spec Upward Solar Shield is designed to protect the spec from solar radiation when mounted upward.
Angle-mounted: The AS-013 Angled Field Spec Mounting Bracket facilitates angled mounting of the field spec. The AS-014 Field Spec Angle-mounted Solar Shield protects the field spec from solar radiation when mounted at an angle.