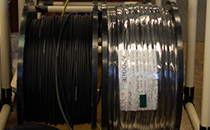 All Apogee sensors are available with custom lead lengths at the time of purchase, however if you need to repair or lengthen your cables, we recommend using genuine Apogee cable along with an Apogee splice kit. To determine the type you need, and the maximum length you can add without affecting performance, please see your particular instrument's owners manual or contact Apogee technical support.
Please note that all cable is sold by the meter.
The most critical aspect of a high quality wire splice is maintaining excellent electrical conductance along the wires and preserving electrical insulation between the wires. To insure these features, Apogee recommends our cable splice kit. This kit includes solder sleeves* to make three splices of our two conductor cable (including the third ground wire). The kit also includes polyolefin heat shrink tubing with internal adhesive to waterproof the exterior. Our testing indicates that cable splice joints made with this heat shrink tubing are nearly as waterproof as the original cable. These splices are mechanically rugged, but splices are typically less strong than the original cable. Jerking a wire that is securely fastened at both ends is more likely to cause separation at the splice than the original cable.
*The solder sleeves included in the Apogee splice kit contain lead and are therefore not RoHS compliant.
Making a Durable Wire Splice