Innovative Environmental Sensors Since 1996
At Apogee Instruments, our mission is to help you make better measurements. This means more than just building and selling premium grade sensors at an excellent price. It involves understanding your needs, supplying you with solutions, and providing the world-class support you need to succeed regardless of the size of your project.
Our job isn't done when your product ships. As you can see, we have invested significant resources in developing support materials on our web site and in our manuals to clearly explain how to optimally use our products for years to come. However, if you can't find an answer to your question on our site or in a manual, our highly trained technical-support specialists and international distributors are standing-by to answer your questions by phone or email. We always value interaction with our great customers and view you as a valued partner on the front-lines of your field.
---
Recent Apogee News:
3/17/14:
R&D and marketing teams from Apogee have returned from a productive trip to Decagon Devices in Pullman, Washington. It's nice to have friends in the industry who share our values. As lifelong researchers and educators, both company founders, Dr. Gaylon Campbell and Dr. Bruce Bugbee, know the good that comes from making high-quality instruments more accessible to scientists around the world. When companies make the advancement of science the top priority, great things can happen.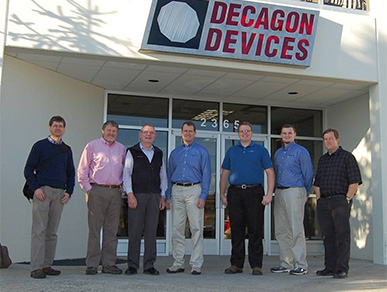 ---
1/23/14:
The Cache County Chamber of Commerce awarded Dr. Bruce Bugbee the 2014 Entrepreneur of the Year award for his leadership of Apogee Instruments, Inc. The award was presented at the chamber's annual awards banquet and featured a keynote address by Utah's lieutenant governor, Spencer J.Cox.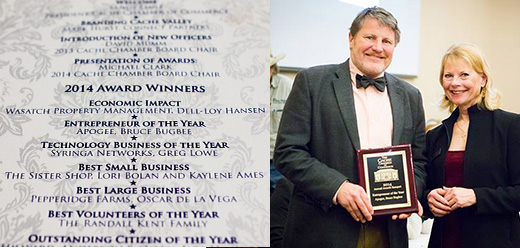 ---
11/19/13:
Dr. Bruce Bugbee, Apogee's president, current USU professor, and world-class crop physiologist, spoke at the TEDxUSU "Survive" event, on November 5, 2013. His talk was entitled "Turning Water into Food" which presented an analysis on the enormous water requirement for food production, reviewed the crisis in world water supply, and showed how small changes in diet can have a major impact on our global food-print.
The video can be viewed on Youtube:
---
9/1/13:

Apogee is continually improving the durability and reliability of our sensors. This ongoing process has reduced product failure to negligible levels. As a result, Apogee Instruments is proud to announce that, as of August 1, 2013, all products we manufacture now carry an industry leading 4 year warranty. Visit our warranty page for details.
---
8/1/13:
Apogee proudly sponsors the Utah State University Algae Biofuel Dragster